It doesn't matter if you're trying to get over someone, are serious or just having some fun. You'll always have your expectations when it comes to sleeping with someone new. Such as what would they like, what would you like? Will that night be the best one for you? One thing we could tell you is that sleeping with someone new is full of surprises. There is a major difference between expectations vs realities in the day to day life!
Read More:10 Effective Home Remedies To Help You Sleep Well!
Here are some honest expectations vs realities of sleeping with someone new!
1.The place
Expectation: You expect it to be perfect. Some slow music in the background, a sweet aroma from the candles and your favorite wine. Clink.
Reality: Actually, there are clothes lying over everywhere, the neighbor's cat is crying in the background. Clearly, this person didn't think you'll make up your mind. Well, why did you?
2.The build up
Expectation: You expect it to be as fiery as it could be. A s3xy look in their eyes that screams that all they want is you. Shower some rose petals.
Reality: You both don't know how to start it. Moreover, he's probably looking for protection that he threw around his messy room 9 months back.
3.The Unveiling
Expectation: It should be quick and easy. Swift hands that work on ties and bra hooks like magic. Also, you never wanted to undress this much for anything.
Reality: You both are undressing yourselves. Faulty bra hooks, tight jeans, long endless sleeves. In fact, name it and you'll have all the trouble you could possibly have in your entire life.
4.That Underwear
Expectation: We know you thought of that underwear precisely. That lace will set things on fire.
Reality: You're judging the polka dots on their pants. Your lace was a waste. That's not a secret anymore Victoria.
5.Those wild things
Expectation: You want things to be wild the first time. Something extraordinary that'll make this night memorable. Meowww.
Reality: In contrast, the only thing wild is that neighbor's cat that is now staring at you through the window.
6.S3x
Expectation: This should be so good. You must never felt this good before. Say hello to new things and places you've discovered.
Reality: Firstly, you passed at the second time. Secondly, you had to fake it. Thirdly, you wish you were the cat staring through the window, instead.
7.Pillow talk
Expectation: Now that you've had the best time ever, you want to know a little more about each other. After all, the way your rhythms match, you would have a lot in common to talk about.
Reality: Well, you just stare at the wall in awkward silence and wonder if you should sleep this soon or not.
8.Waking up
Expectation: You expect them to wake you up by saying sweet things, some cuddles and kiss3s to add more passion to it. What a perfect life you have.
Reality: Your breath smells like a dead rat and you have no idea where you woke up at. In addition, the cat reminds you of the horror.
9.Breakfast?
Expectation: You'll get served a delicious breakfast in the same bed where, all of your dreams came true the last night.
Reality: You can't wait to leave their house. Meanwhile, you eat a mint because your breath smells.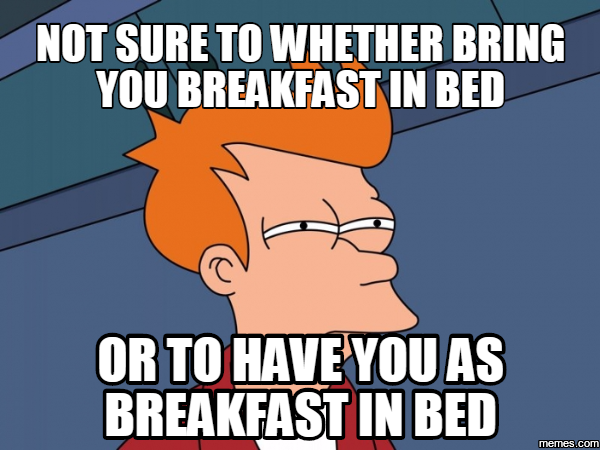 10. Another date
Expectations: You expect them to ask you for another date because they too had the best time of their life. After all, you're too hard to stay away from. Obviously.
Reality: Instead, you block them yourself and make a note on your phone that you won't ever make the same mistake again. Moreover, you frantically calls that ex.
11. Know Much now
Expectation: You think that after one or two nights you'll understand your new partner much better.
Reality: However, you realize that they are some alien that came from Pluto. Not even a planet.
12. The expectations vs realities of ever after 
Expectation: Ultimately, you expect them to give you what your exes couldn't. A happy ever after.
Reality: Bye bye forever. Creep.
In summary, don't have high expectations and you'll be just fine. After all, it's adventurous to know new people and surprises are always good. We just hope there are surprises only and not shocks. Do you think we miss any expectations vs realities? Let us know in the comment section below!